Best Castles in the Czech Republic, fairytale Czech castles near Prague included
PlzenGuide > Czechia > Best Castles in Czech Republic
Czech castles are usually surrounded by a beautiful landscape; many of them are very well reconstructed and open for visitors. Enjoy your visit to Czech Republic and discover the best castles in Czech Republic, historical landmarks and nice countryside.
We want to bring much more value for our readers than a brief history of famous Czech castles. Some interesting stories of Czech Republic castles are available only in Czech language and now you have the opportunity to read tales hidden behind every here mentioned Czech castle. Keep reading and learn also useful information about opening hours, castle´s website and how to get there.
Some of here described beautiful castles and chateaux are very well known and you will need the reservation in advance, others are less known but even very beautiful and you can enjoy the visit without crowds of people.
This page may contain compensated links. For more information read our disclaimer here.
Castles close to Prague
If you are looking for best castles near Prague Czech Republic, we strongly recommend these:
Prague Castle ● Karlštejn ● St. Barbara's Church in Kutná Hora ● Konopiště
Here is the list of the best castles in Czech Republic you shouldn´t miss. These medieval Czech Castles will impress you:
Czech Castles: map
The most known Czech Republic Castle is definitely Prague Castle Hradčany.
Spread over almost 70,000 square meters, Prague Castle is the largest ancient castle in the world. That aside, there are a number of reasons to visit the castle complex.
A large number of architectural styles can be found within the fortress; gothic, baroque, renaissance and Romanesque among others. Churches, halls, towers, museums, smaller palaces and fountains are representing each style. Most of these places are open to the public and will delight enthusiasts.
The castle has been the seat of Czech monarchs and has been the official residence of the head of state for many years. Therefore, St. Vitus Cathedral hides the most important Czech treasure: Czech Crown Jewels.
Book the most popular Prague castle tour here »
Prague castle is the most known and also the largest Czech Castle.
The neighborhood where the Prague Castle is located is called Hradcany. It is situated above the Vltava's left bank, looming over the whole of Prague with its spires easily visible even from long distances.
Book the most popular Prague castle tour here »
Tip 1: Inside the castle is an open space surrounded by the walls of these different buildings. There's a mini amphitheater that is almost like rounded stairs. If you stand in the middle of this amphitheater and speak, your voice will make a metallic echo, a distortion of some sorts. Some of my friends and I call it the echo stairs. Try it.
Tip 2: Make sure to visit the Golden Lane, a street consisted of small houses that were painted in bright colors in the 1950s. To this day, there are souvenir shops in the area. Interestingly, house number 22 used to be owned by Franz Kafka's sister, he wrote some of his pieces while living there.
Tip 3: There's a changing of the guards that locals and tourists get to watch on particular hours of the day.
The story about Czech castle Hradčany was written by Marie Gizelle. You can read her post about Prague here.
Karlštejn: the most beautiful castle near Prague
If you are looking for Czech castles around Prague you should definitely visit Karlštejn castle.
Book the popular Trip to Karlštejn Castle from Prague here »
Karlstejn is arguably one of the most famous and beautiful castles in the Czech Republic. Charles IV, the Holy Roman Emperor himself, ordered and supervised its construction. The castle was built in a hilly area and is not easily detected from afar: one has to get closer to see it.
Karlstejn was to hold the crown jewels of the empire under the most beautiful part of the castle: the Church of Holy Cross with more than a hundred Gothic paintings. During the wars the treasure was moved to other places and then back when peaceful times returned. The jewels were kept in Karlstejn until the 17th century and today visitors can see a replica of a Bohemian crown in the castle.
As any castle, Karlstejn has some legends going around. One of them says that women were not allowed to enter the castle, but it is not true. Another legend speaks of a vicious lady who tortured her maids and even animals could not escape her rage and this story is more or less true.
Visitors can see the castle choosing one of the three routes available. I advise you to take all of them as they give access to different parts of Karlstejn. Some of the rooms are still exquisitely decorated with gilded ornaments and old paintings; others are very simple with rough furniture and faded frescoes. I still vividly remember a room with the king's throne in the center: the king always sat in darkness so that petitioners could not see his face while he could clearly see all of them.
The story about the one of the most amazing castles around Prague was written by Marianna from Irma Naan World. Read her article about Karlštejn castle here.
Kutná Hora: St. Barbara's Church
If you are looking for Czech castles and Cathedrals around Prague you should definitely visit Kutná Hora.
Kutná Hora is a historic city about an hour from Prague. It was once a major center of silver mining, and its wealth is reflected in its many beautiful buildings, including the Gothic St. Barbara's Cathedral and the Sedlec Ossuary, a chapel decorated with human bones.
Book the popular trip to Kutná Hora from Prague here »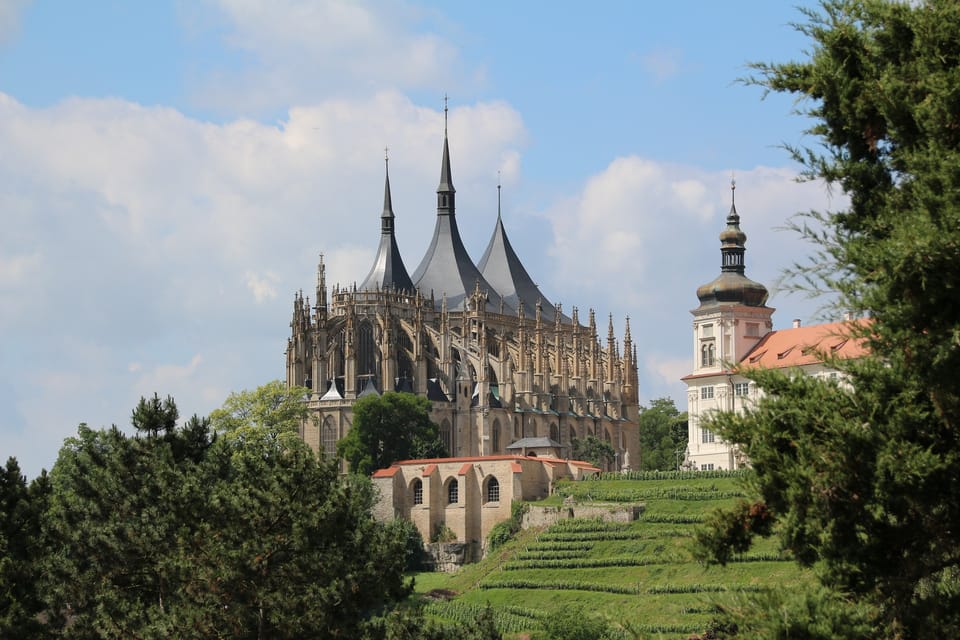 Kutná Hora is the beautiful historic city near Prague.
Kutná Hora is famous for:
The Sedlec Ossuary: This famous chapel is decorated with over 70,000 human bones, which were arranged into intricate patterns by the local woodcarver, František Rint. It's a unique and macabre sight that you won't find anywhere else.
St. Barbara's Cathedral: This Gothic cathedral is one of the most important religious buildings in the Czech Republic. It was built in the 14th century and is decorated with beautiful stained glass windows and sculptures. Book the popular trip to Kutná Hora from Prague here »
The Old Town: The historic center of Kutná Hora is a UNESCO World Heritage Site. It's full of narrow streets, colorful houses, and medieval churches.
The Silver Mines: Kutná Hora was once a major center of silver mining, and you can still visit the old mines today. Tours take you deep underground to see where the miners worked and how they extracted the silver.
Medieval castle: Český Krumlov
Europe has some pretty fantastic castles to explore, but there is one that is so impressive, that you simply can't miss. Cesky Krumlov has piqued the interest of many travelers in recent years and for good reason.
This idyllic riverside town is so enchanting, beautiful and culturally rich that you'll feel like you are in a fairytale. One of the main features of the town is the looming castle overlooking the village, river below and expanding countryside.
You can tour the inside of the medieval castle, wander the luscious English gardens or just sit at a riverside cafe and take in the stunning views. One of my favorite activities is to actually raft around the foot of the castle, enjoying the mix of pastel colors, impressive construction built into a cliff side and intricate tower.
Book the popular day tour from Prague to Český Krumlov here »
Regardless of how you choose explore the Cesky Krumlov fortress, one thing is for sure; have a camera ready for all of it's beauty!
The story about Czech castle in Český Krumlov is written by LeAnna from Well Traveled Nebraskan.
Czech castles near Prague: Konopiště
Konopiště has some seriously cool and interesting history and is a must see when visiting the Czech Republic. It was founded in 1294 and has had many owners since then. In 1887 this was a luxurious home to the Archduke Franz Ferdinand of Austria. His assassination started World War I and well, the rest is history. It also housed units of the SS headquarters during World War II.
The Archduke was a collector of firearms and an avid hunter and the rooms still have the beautiful furniture and features from the 1800's. The castle was transformed from a Gothic style to Baroque style by the Archduke. There are four different tours to take once you arrive at the castle that are between 50 – 60 minutes. You can see the hunting corridor, Baroque style bathrooms, famous armoury, one of the first electric lifts or the private apartment of the family. You can pair two different together and really get the full story and I highly recommend it.
Book the popular tour from Prague to Konopiště here »
Konopiště is located outside the city of Benešov and is a 45-minute drive from Prague. The castle is open Tuesday to Sunday and you can arrange for your tours in English.
The story about Czech castle Konopiště is written by Brett from GlutenFreeTraveller. You can follow her on Facebook.
This beautiful photo of Czech castle Konopiště is taken by Jirka Jiroušek while paragliding. See his other fantastic sky photos on www.Nebeske.cz.
Hluboka Chateau
The castle Hluboká reached its current appearance during the 19th century when Adolf II von Schwarzenberg ordered the reconstruction of the castle in the romantic style of England's Windsor Castle. Hluboká chateaux is today considered one of the most beautiful castles in the Czechia.
Hluboká Chateaux is one of the most visited Czech Republic castles. For more information about opening times and tickets see the website of Hluboká castle here.
Czech Castle Loket
Loket town is very often compared to Český Krumlov.
The medieval castle Loket belongs to best castles in Czech Republic. It is situated about 80 km far from Plzeň and only 15 km far from Karlovy Vary, the famous SPA town in Western Czechia.
Before the visit maybe you would like to know that the King of Bohemia and Holy Roman Emperor Charles IV. (Karel IV.) had been living here until age of 3.
The gothic-romanesque castle was built in the second half of 12th century on a rock hill surrounded by Ohře river. Such a great and save place for a fortress.
Loket castle is open for visitors; castle´s interiors offer many interesting expositions. To the most popular parts belong the old castle prison with an authentic museum of medieval torture, the museum of weapons and an exhibition of porcelain. For more information about opening times and prices go to the website of Loket castle.
Loket Castle is situated on a rock hill and surrounded by Ohře River.
The castle is situated in a very small town with the same name Loket. Narrow streets of Loket town, the curve of Ohře river and the impressive hill with Loket castle above create a beautiful composition.
I am sure that you will love this place; it is very similar to Český Krumlov (by UNESCO protected town in Southern part of Czech Republic) only with less tourists and lower prices.
The train connection to this Czech castle is very often from Karlovy Vary, but it is also possible to get there by canoeing on Ohře river or to come by bike: Ohře river bike trail is beautiful and very popular.
Lednice Chateau
Lednice Castle is located in South Moravia near the town of Mikulov, in a region known for vineyards and rolling hills. This is where you come to drink Czech Republic's finest wine.
The Castle will amaze you at the first sight. While originally built in Renaissance style in the 16th century, the Castle later received a Baroque makeover, last to be rebuilt in a Gothic style in the middle of the 19th century.
Check the tour from Prague to Lednice here »
If you'd like to see the Castle inside (highly recommendable!), you will either need to come very early, or buy a ticket online in advance, at least 24 hours before intended visiting time. Lednice gets busy and e.g. already at noon tickets can be sold out for the day, especially on the weekend.
But it's not only about Czech castle in Lednice. It's enclosed in a large garden with several other things to see. You can easily spend hours walking around and discovering the whole Lednice site. Don't leave out the greenhouse located right by the castle, or a minaret located around 40 minutes walk away. If you don't feel like walking, you can also hop on a boat or make use of one of the many horse carriages.
Lednice Castle has been inscribed on the Unesco World Heritage List in 1966 due to its unique combination of nature and manmade monuments.
The story about Lednice Chateau is written by Veronika from TravelGeekery.
Boheminium: Czech Republic castles in one place
The 4th largest miniature park in Europe is located near the city center of Mariánské Lázně, spa town in Western part of the Czech Republic.
You can admire 75 incredibly detailed models of Czech Republic castles and sights here.
Which models can you see in Boheminium?
You can find here Czech Republic castles and châteaux like Karlštejn Castle, fabulous Château Červená Lhota, Hluboká, Loket and many Czech landmarks as: Ještěd Tower, Colonnade of Mariánské Lázně, towers of Karlovy Vary region, wine cellars, windmills, royal forest dam near Dvůr Králové etc.
Read more about Boheminium miniature park here.
Castles in Czech Republic: Bečov nad Teplou
As was mentioned the most important Czech treasure Czech Crown Jewels is kept in Prague Castle. And Bečov Castle guards the second most important Czech treasure: the Romanesque St. Maurus Reliquary (Relikviář Svatého Maura).
For more information about opening times and tickets go to the website of Bečov castle.
Czech Castle Bečov nad Teplou is situated near Karlovy Vary.
Castles in Czech Republic are usually open from April to October, Mondays is closed. All the time please check the castle´s webstite.

#plzenguide
Kozel Castle (Kozel Chateau)
Looking for the afternoon or an half-day trip from Pilsen? Thanks to the short distance from Pilsen is Kozel Castle popular goal of Pilsen citizens. If you use a train (from Pilsen to Šťáhlavy) you can combine the visit of Kozel with the 2 km long walk in a nice tree alley.
Kozel is the nearest Czech castle to Pilsen.
Kozel is the hunting Chateau. It was built as a country residence for the aristocracy at the end of 18 century. Kozel Chateau is a very simple ground floor building, which served as an accommodation of the noblesse during hunts in nearby beautiful forests.
Maybe you are asking why the name Kozel, which means ´he-goat´ in English language. It is because of the old pagan custom of the Slavs: our ancestors sacrificed the goat in the hope of a good harvest at the time of the Equinox right on this place.
You will find a chapel next to the castle: it is used for concerts and as wedding place until today.
This Czech castle is surrounded by a huge park (40 ha), which ensures that you will enjoy also the surrounding. For example you can borrow a boat and discover a small lake near the chateau Kozel called ´Lopatecký rybník´ or you can admire blooming roses and many kinds of ornamental trees.
The distance between Kozel Chateau and Radyně castle is only 6 kilometers. Close to both places is located town Starý Plzenec where you can spend a night for example in apartment house Na Jízdárně.
Plasy Monastery built on the water
Plasy is a town located 25 kilometers north from Pilsen in the valley of Střela river.
It is very good accessible by car or train (direct connection) from Plzeň. And we like to go there for one day every summer because this place offers the entertainment for the whole family.
Plasy is very small town but it lives with a rich cultural life. And here are the most interesting reasons why to visit this place near Pilsen:
the unique monastery built on 5100 wooden piles
many cultural events in front of the monastery and in the area of a brewery
ZOO with a minigolf park
a small lake for summer bathing
a nice surrounding with bike trails
the excellent restaurant Rudolf II. with children playground and an accommodation possibility in attached property Pivovarský Dvůr
Plasy monastery belongs to the most amazing castles in Czech Republic.
The Cistercian Monastery in Plasy was founded in 1144 and it is one of the oldest heritage sights in the Pilsen region. Its architect Jan Blažej Santini-Aichl got a difficult task: to build a monastery on the water. The monastery is built in the river valley which is very unstable and wet. This is the reason why Plasy Monastery is built on 5100 wooden piles.
Later on, monks built the water canal through the monastery area. The water actuated mill and the mill actuated the sawmill.
Plasy monastery is open for the public. Several times a year, there are special tours which lead visitors to the underground where you can see the water, air and heating system of Plasy Monastery. But you have to be older than 10 years and may not be scared. ☺ For more information about guided tours go to the website of Plasy Monastery.
Water Castle Švihov
The journey by train took from Pilsen to station Švihov 45 minutes in a nice nature. From the railway station we followed the blue tourist mark and walked maybe 2 km when we reached the castle. The castle is surrounded with the blind arm of the river Úhlava. By the way, the castle and the city were terribly affected by flood in 2002.
Švihov Castle is situated on the way from Pilsen to Klatovy.
Tours take place an every hour and you have a several options, which tour to choose. The basic one: life in a late medieval aristocratic manor in the 16th century, then the visit of kitchen or the visit of the tower. We choose the tour for children, which was very simple and quite short (maybe 30 minutes) and I think my children would be able to enjoy even the longer tour.
Parking place, restaurant and icecream shop is nearby. You can combine the visit of Švihov castle with the visit of another interesting west bohemian town called Klatovy.
The Ruins of Radyně Castle
Czech Castle Radyně is situated just a few kilometers southeast from Pilsen, on a small hill called Radyně, therefore is the castle very well visible from Pilsen City and it is also a significant element of Pilsen Region.
Thanks to the care of nearby town Starý Plzenec it is very nice illuminated at night.
Actually, we can´t call it castle anymore; better description is ´ruins´ now. You have to understand that the castle was founded already in year 1356 by King of Bohemia and Holy Roman Emperor Charles IV to protect the borders and trade routes to Bavaria.
But the visit of Radyně castle is one of the MUST TO SEE in Pilsen region. And I tell you why.
Czech Castle Radyně from above, photo by Zbyněk Bartoš.
Radyně castle is hidden in the forest, so even the journey there is little bit adventurous. Of course, you can rich Radyně castle by car, there is a parking place in front of the castle, but we recommend you to walk from Starý Plzenec. From bus or train station in Starý Plzenec leads a good marked path for tourists. It has a big advantage, various cultural and music events take place in Radyně castle and probably many people will come by car there.
The castle is open for the public on weekends during April, May, September and October and from Tuesday till Sunday during June, July and August.
In front of Radyně castle is very nice reconstructed Info Center with access for handicapped people. You find a small restaurant, souvenirs shop, toilets, service for bikers and small children playground here.
For more information see the Website of Info Center Radyně Castle.
The closest possible accommodation to Radyně castle is in apartment house Penzion Pod Radyní. Check out the latest prices and more details.
Chotěšov Monastery
I love Chotěšov monastery. It is a place with a rich and sometimes emotional history. The monastery is placed in big garden with a nice view to surrounding area. It is open for a public only occasionally: on Sundays from May till September at 2 pm and 4 pm.
The town of Chotěšov is situated 20 kilometers to the west from Plzeň on the main route from Plzeň to Domažlice. The Baroque nunnery (which means woman monastery) of Chotěšov was founded in the years 1202-1220. It was burnt down in 1421 during the Hussite Wars and during the Thirty Year´s War (1618–1648) it was plundered several times.
Chotěšov Monastery was reconstructed but last disaster followed in 1950; the Baroque convent used to serve as a casern for Czechoslovak Army between years 1950-1975. In this moment started the process of the devastation of cultural values, the equipment of the nunnery was burnt, destroyed or stolen.
Today the major part of the monastery belongs to the property of the town Chotěšov and the building is being with help of some donations and work of volunteers very slowly reconstructed.
Do you know that a short part of the movie ´Bad company´ with Anthony Hopkins was filmed in Chotěšov monastery?
Chotěšov monastery still need a massive reconstruction.
Křimice Castle: reconstructed thanks to the cabbage
The former village Křimice became a part of Pilsen City a few years ago. It is situated on the western part of Plzeň and it is famous in Czechia mostly because of cabbage. Does it sound strange?
Cabbage from Křimice is chopped cabbage that has been pickled in brine and stored in wooden barrels; this product is called Sauerkraut (from German language). You can also see cabbage plants on the fields around Křimice. The cabbage manufacture and Křimice castle belong to the property of Lobkowicz family.
Křimice castle is open for visitors only very occasionally.
Křimice castle was built in 1732. In 1830, the ancestor of family Lobkowicz inherited the castle. Unfortunately, the Křimice castle was nationalized by the Czech Communist party in 1950. After the fall of communism the destroyed castle was again returned to Mr. Jaroslav Lobkowicz in 1994.
The castle is continuously repaired, but it is open for public only on special occasions, for example on October 28, when the anniversary of the Czech Republic Foundation is celebrated, or for wedding purposes.
The castle is surrounded by a very nice park, which is open for public and which is used for concerts, theatre performances, summer cinema, kids day etc.
Křimice castle is very well accessible from Pilsen: of course by car, by bike (there is a very nice bike trail leading along Mže river) and by bus No. 35, which goes once or twice in every hour.
❀
It was the tour through the most amazing chateaux and gothic castles in Czech Republic in and outside Prague. I hope that it was helpful for you and that you have an inspiration which Czech Castle to visit. I appreciate your comments on our Facebook page. Thanks!
Written by Šárka Novotná
---
ABOUT THE AUTHOR
Šárka Novotná
Hi, I'm Šárka and I'm so glad you've found this Website! I was born in Plzeň and from the love to my home city I launched PlzenGuide.com. I hope you will find important information and ideas about how to spend an incredible time in Pilsen Czech Republic.