8+ Best Pilsen Restaurants: review of restaurants in Pilsen (Plzeň) Czech Republic
PlzenGuide > Eat and Drink > Best Pilsen Restaurants
Plzeň (in English or German called Pilsen) is the fourth largest City in Czech Republic and it is well known as the place where the famous Pilsner beer was born in the middle of 19th century. If you are looking for the best restaurants in Pilsen after you finished your Pilsen Brewery Tour then keep reading.
Good beer should be accomplished with a good food. To help you find the best places to eat in Pilsen, we prepared for you a review of Plzeň restaurants so you can choose which one suits your needs best. All Pilsen restaurants listed below we visited, had a lunch or dinner and that's why we can recommend them.
So whether you're looking for new Pilsen restaurants, Plzeň restaurants serving traditional Czech or international cuisine, or quite simply, best Pilsen restaurants; discover it right here.
Prices in Pilsen restaurants can vary according a season, quality and location of the restaurant, kind of meals etc. There is a poster next to the door of each restaurant, so you can always check prices before you entry.
Plzeň Restaurant: U Mansfelda
A reservation for this restaurant is necessary! "U Mansfelda" is probably the best restaurant in Pilsen. This restaurant is located next to the historic walls in Plzeň Center, where General Mansfeld conquered Plzeň in 1618. The menu listed high quality International and Czech Cuisine including pork knee, smoked ribs, goulash with dumplings, roast duck with cabbage and many other exciting dishes. A traditional decor along with tank beer Pilsner Urquell 12° makes this restaurant very popular among tourists as well as the local population.
You can enjoy outdoor seating with a beautiful view of the park during summer. Below the summer terrace is a tavern with huge choice of wine. Don't fail to make a reservation.
Open Mo-Th: 11am-11pm, Fr+Su: 11am-12pm, Sa: 11am-10pm.
Dřevěná 9, Plzeň. ☎ +420 377 333 844. Web page.
Restaurant and tavern U Mansfelda with a terrace where you can eat during summer.
Pilsen Restaurant U Salzmannů
Martin Salzmann, the founder of the most famous Pilsen Restaurant "U Salzmannů", used to be Pilsner freight transporter and he was the first one who carried the first barrel of Pilsner Urquell beer to Prague in 1843.
After the railway was built, Mr. Salzmann closed his transport company and established the restaurant "U Salzmannů".
Restaurant U Salzmannů serves traditional Czech Cuisine and tapes the fine unpasteurised Pilsner Urquell beer that is stored in tanks. The exeptional food, huge capacity of 180 seats, summer garden and private parking place attract visitors from all over the world.
Open Mo-Th: 11am-11pm, Fr-Sa: 11am-12pm, Su: 11am-10pm.
Pražská 8, Plzeň. ☎ +420 377 235 476. Web page.
Restaurant and guesthouse U Salzmannů.
Restaurant Na Parkánu
Pilsner restaurant "Na Parkánu" is situated in a historic building that dates back to the 15th century, and it features a charming and cozy interior with wooden beams, brick walls, and a warm ambiance.
The menu is focused on traditional Czech cuisine. Some of the most popular dishes on the menu include roast duck with red cabbage and dumplings, goulash with bread dumplings, and schnitzel with potato salad.
In addition to the main menu, Na Parkánu also offers a variety of daily specials, including fresh fish and seasonal vegetables. The restaurant has an extensive drinks menu, with a selection of Czech beers, wines, and spirits. Here, you can use the voucher for 0.3l of Pilsner Urquell beer you got in Pilsen historical underground.
Restaurant Na Parkánu is a popular spot for locals and tourists alike, so I recommend to make a reservation, especially during peak hours and weekends.
Veleslavínova 4, Pilsen. ☎ Web page.
Restaurant Na Parkánu offers a unique and authentic dining experience in the heart of Pilsen.
NO SMOKING: Smoking of tobacco products is prohibited in all public restaurants and cafes in the Czech Republic.

#plzenguide
Pilsen Restaurant: El Cid
The el Cid Restaurant is located in the center of Pilsen, very close to the Republic Square. The restaurant specializes at rustic spanish, mediteranien and fish cuisine as seefood, risotto etc. You will not find the typical Czech Cuisine with dumplings here, but you will definitely enjoy the open terrace and excellent food. Good choice.
Open Mo-We: 11am-11pm, Thu-Fr: 11am-12pm, Sa: 12am-12pm, Su: 12am-10pm.
Křižíkovy sady 1, Plzeň. ☎ +420 377 224 595. Web page.
Restaurant el Cid with a cute outdoor seating.
Plzeň Restaurant Potrefená husa
"Potrefená husa" is one of the best Pilsen restaurants. They have exeptional food, nice service and huge choice of international beer. Restaurant "Potrefená husa" serves modern Czech meals, steaks and international dishes. To read the menu is a great experience: such a nice descriptions! We eated chicken strips in rissoto with dried tomatoes and Parmesan and drunk home made ginger lemonade.
Open Su-Th: 11am-12pm, Fr+Sa: 11am-01am.
Martinská 1, Plzeň. ☎ +420 377 320 832. Review on tripadvisor.
Restaurant Potrfená husa is located close to the Republic Square in Plzeň.
See also: Best cafes in Plzeň »
Pilsner Urquell Brewery Restaurant
The famous restaurant "Na Spilce" is situated in front of visitor center in the area of Pilsner Urquell Brewery. Restaurant belongs to the best restaurant in Pilsen. You can taste the typical Czech dishes and the unpasteurized Pilsner Urquell beer from the tank here. The Pilsner Urquell Brewery restaurant is equipped with the children playing area, you can also sit in the garden in good weather.
Open Su-Th: 11am-10pm, Fr+Sa: 11am-11pm.
U Prazdroje 7, Plzeň. ☎ +420 377 062 755.
Pilsen restaurant: Na Spilce
Find your accommodation in Pilsen: the best deals for today »
Visit 6 of the Pilsen best clubs and bars and receive a welcome drink in each of them.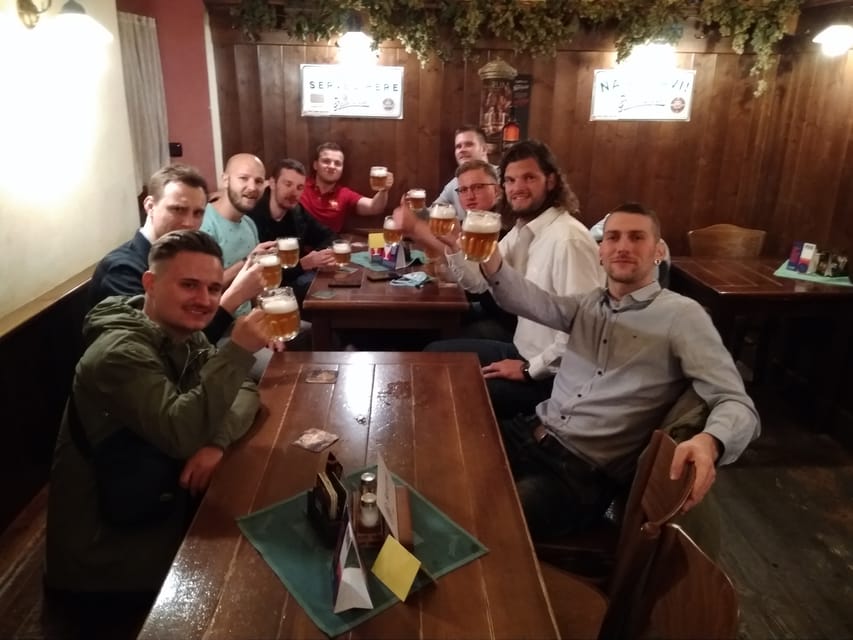 Experience the best of Pilsen nightlife and visit a variety of different clubs and pubs including a pub where you can pour your own beer.
Read also: How to get to Plzeň Czech Republic by the most convenient way »
❀
Which Pilsen restaurant you liked? To choose the right place where to eat can be sometimes difficult even for local people. We wanted to help you to discover Pilsen best restaurants. So, during your visit to Plzeň you can easily find the restaurant with cuisine you prefer. Maybe you travel with children, maybe you want to taste traditional Czech food, maybe you are looking for vegetarian restaurant. You can find it with our restaurants and pub guide.
We appreciate your comments and experience with above listed Pilsen restaurants on our Facebook page.
Written by Šárka Novotná
---
ABOUT THE AUTHOR
Šárka Novotná
Hi, I'm Šárka and I'm so glad you've found this Website! I was born in Plzeň and from the love to my home city I launched PlzenGuide.com. I hope you will find important information and ideas about how to spend an incredible time in Pilsen Czech Republic.